Welcome to Arbeitsgemeinschaft Bergen-Belsen e. V.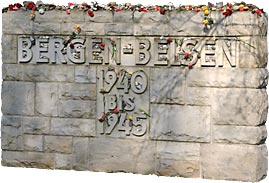 Arbeitsgemeinschaft Bergen-Belsen e.V. was founded in March 1985. It serves charitable purposes and its members work on a honorary basis.
The thematic emphases are focussed at e.g.:
commemoration ceremonies on the occasion of the day of liberation on 15 April (taking place on each Sunday following 15 April)
»Candles on the Rails«: ceremony at the cattle car at the railway ramp (in the evening before each year's commemoration ceremony)
information inside Bergen-Belsen Memorial
book sale (emphasis: youth literature) at Bergen-Belsen memorial
support of youth work in Bergen-Belsen (work camps)
annual study trips to various memorials
contact to survivors of Bergen-Belsen concentration camp (all over the world)
care of survivors when visiting Bergen-Belsen memorial
support of survivors in Belarus
By several circulars each year we keep in touch with members and friends and inform them about our activities.
You are very welcome to participate in our work and contribute your ideas and suggestions.